A-YASᴴᵀ
Arxula - Yeast Androgen Screen (High Throughput)
Detection of androgenic effects
Concerned about data analysis?

comes with our test kits
web tool with free access
simple and intuitive use
statistical assessment of results
comprehensive report with graphics
customized report available
Further documents
Available test kit format

Product Description
The A-YASᴴᵀ (Arxula-Yeast Androgen Screen for High Throughput) is an effect-based 384well assay for the detection of androgenic activity in various types of water with low matrix load. The A-YASᴴᵀ uses the non-conventional and recombinant yeast Arxula adeninivorans as the androgen responsive biosensor. No sterile conditions are required for the whole test procedure.
Key Characteristics
The A-YASᴴᵀ is a semi-quantitative assay with ready-to-use 384well test plates suitable for automatized test procedures.
Validation and Standardization
The applicability of A-YASᴴᵀ was proven by assessing various estrogens and substances with estrogenic potential.
Data Evaluation
Concerned about data analysis? Together with QuoData we will provide a solution for data analysis depending on your requirements.
Support
Will this test fits to my purposes? We give sufficient support for choosing the right test for your application as well as before and during test establishment and for data evaluation.
Applications
Determination of potential androgenic effects of drug candidates
Semi-quantitative analysis of ultrapure-, drinking- and mineral water
Semi-quantitative analysis of ground-, well- and surface water with low matrix effects
Test Principle
Genetic Modifications
In the yeast genome the gene for the human androgen receptor (hAR) and a reporter gene cassette have been integrated.
Transactivation
Androgens and androgenically active substances bind to the receptors and the resulting complexes trigger the transcription of the reporter gene.
Detection
After 18-22 h the fluorescence (excitation 535 nm, emission 595 nm) is measured directly in the plate.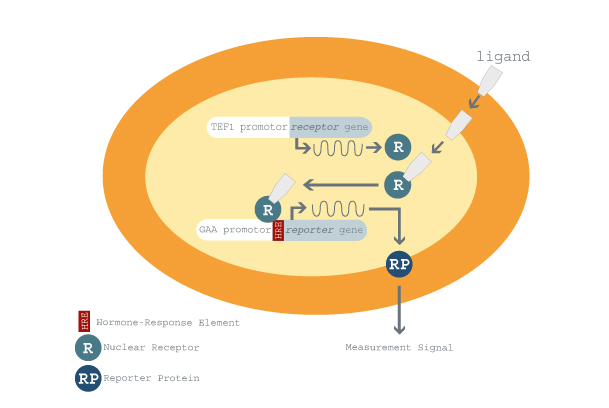 url(/sites/default/files/pictures/Header/Header-Produkte_0.1.jpg)